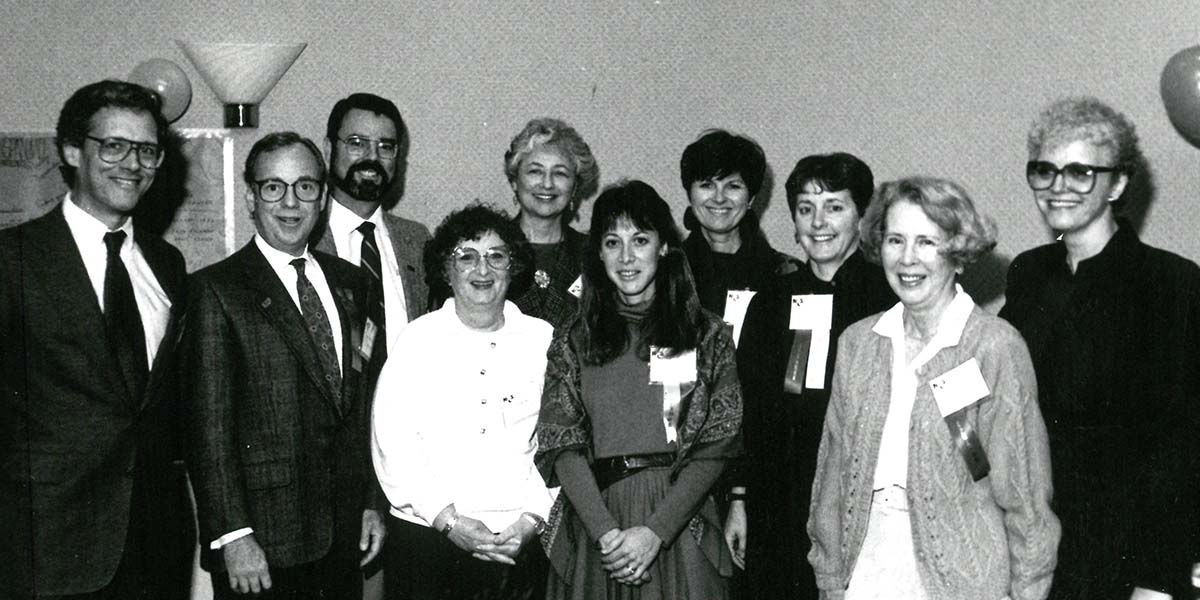 Remembering Catherine Logan Carrillo, a Pioneer of the Survivorship Movement
After reading Dr. Fitzhugh Mullan's seminal article, "Seasons of Survival: Reflections of a Physician with Cancer," in the New England Journal of Medicine, Catherine reached out to Dr. Mullan and asked him to work with her to organize a national network for cancer survivors.
In 1986, Catherine and Dr. Mullan invited a group of cancer survivors, oncology professionals, and representatives of cancer organizations to come to Albuquerque and discuss different ways to make life better for cancer survivors. With their visionary leadership and passion for change, this highly motivated group began to change the lexicon from cancer victim to cancer survivor. In one short weekend, they planted the seeds to raise awareness about issues affecting cancer survivors, to increase funding for research in this area, and to grow local and national cancer advocacy programs by founding the National Coalition for Cancer Survivorship (NCCS).
Dr. Mullan said, "It was Cathy's hear-no-objections determination that really breathed life into NCCS. She was determined that a national cancer survivors' organization could be built and determined that we should do it. She was right and today the NCCS has a proud 32-year history of accomplishment thanks to her grit. She will be missed."
Susie Leigh, another of NCCS' founding members, said: "Without Cathy, there would be no NCCS. She had a vision for cancer-related support that eventually expanded far beyond anything she or any of us could imagine. And her work in this area continued as long as her health permitted. I miss her not only as a cherished colleague, but also as a beloved friend."
Barbara Hoffman, an NCCS founding member and 30-year board member, said, "Catherine Logan planted the seed for NCCS. She was one of the first to recognize that the most effective advocates for cancer survivors would be educated survivors themselves. She took the initiative to find and invite others who shared her passion to work together towards common goals. And she devoted many years to do everything necessary to build NCCS into a national voice for all survivors—from running a national organization on a shoestring, to writing letters, editing a newsletter, raising funds, and networking with fledgling survivor organizations throughout the United States. Every cancer survivor now benefits from Catherine's foresight and dedication."
In 1991, NCCS established the Catherine Logan Award for Service to Survivorship to honor Ms. Logan's legacy of leadership and service, and presented her with the inaugural award. Awardees over the years include Selma Schimmel, Elmer Huerta, Fran Visco, Maria Carolina Hinestrosa, Karen Jackson, Doug Ulman, and Lillie Shockney.
We at NCCS are deeply grateful to Catherine for her vision and her contributions to the survivorship movement. We are saddened by her loss and committed to carrying forward her legacy.
# # #
---
Related Posts
Catherine Logan Carrillo, co-founder of NCCS and its first Executive Director, died February 19 in Albuquerque, New Mexico. Catherine founded Living Through Cancer, which eventually became People Living Through Cancer (PLTC), one of the first community-based peer support organizations for people dealing with cancer.
https://canceradvocacy.org/wp-content/uploads/2018/02/10-Founders-1990-NCCS-Assembly.jpg
600
1200
actualize
https://canceradvocacy.org/wp-content/uploads/2020/06/NCCA-Logo.png
actualize
2018-02-28 12:21:58
2018-02-28 12:21:58
Remembering Catherine Logan Carrillo, a Pioneer of the Survivorship Movement