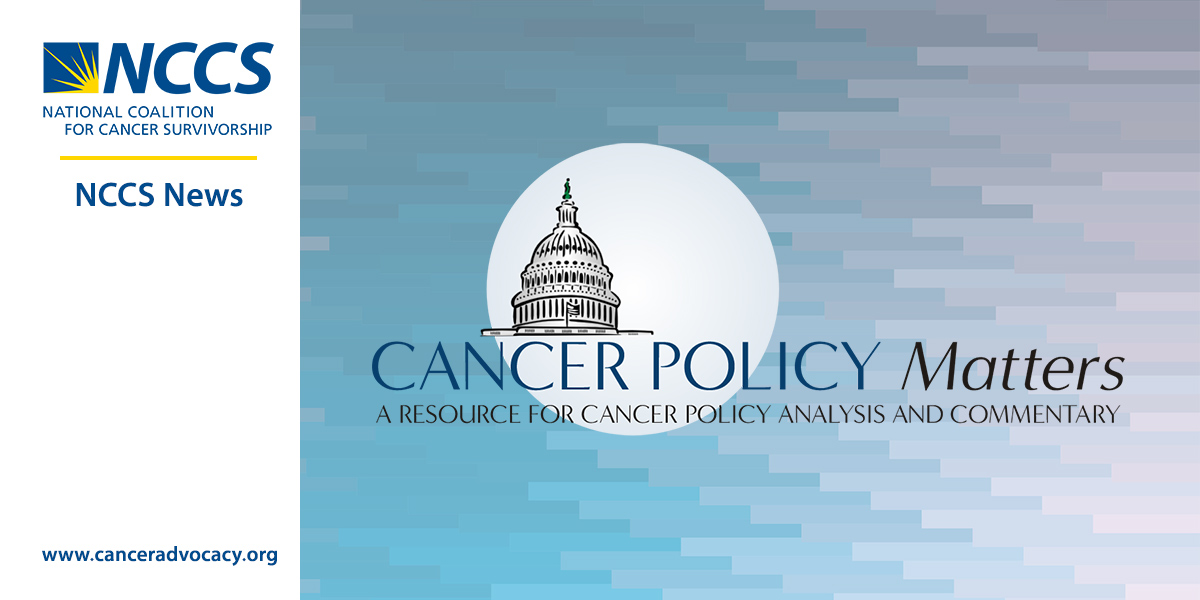 NCCS Applauds Introduction by Reps. DeSaulnier and Carter of Bipartisan "Cancer Care Planning and Communications Act"
Championed by NCCS, the bill would increase comprehensive cancer care planning for millions of Medicare beneficiaries.
Washington, D.C. – Today, Rep. Mark DeSaulnier (D-CA) and Rep. Buddy Carter (R-GA), co-chairs of the Congressional Cancer Survivors Caucus, introduced H.R. 3835, the Cancer Care Planning and Communications Act (CCPCA). A legislative priority of the National Coalition for Cancer Survivorship (NCCS), the bill would create a Medicare service to reimburse providers for time and resources used to create cancer care plans for Medicare beneficiaries.
"The Cancer Care Planning and Communications Act is a bipartisan effort that would significantly improve the quality of cancer care patients receive in Medicare," said NCCS CEO Shelley Fuld Nasso. "Care planning, including the provider-patient discussions about cancer care, would go a long way to alleviating some of the anxiety patients experience before, during, and after treatment. The CCPCA would help both providers and patients with the tools and resources to manage and coordinate their care from active treatment throughout survivorship. NCCS commends Reps. DeSaulnier and Carter for their leadership in fighting for cancer patients and survivors, and we look forward to working with them to pass the CCPCA."
"Medical breakthroughs are at an all-time high, but advancements in doctor-patient communications are not keeping pace. We know that less than half of all cancer patients feel adequately informed about their diagnosis. Without a written plan explaining treatments and expected symptoms, patients are often left with more questions than answers. As a cancer survivor, who is grateful to have a healthy and full life ahead of me, I hope that my experience and this legislation will help others better navigate a diagnosis. I am grateful for the support of my co-chair Congressman Carter on this effort," said Congressman Mark DeSaulnier.
"As a pharmacist for more than 30 years, I have cared for many cancer patients and survivors and I also have personal experience dealing with my father's battles with cancer," said Congressman Carter. "I've seen firsthand that cancer patients should be focused on getting better instead of trying to navigate the complexities of their diagnosis without clear direction or knowing what to expect from their care, especially as cancer treatment choices become more advanced. I'm proud to introduce this legislation with my friend Congressman DeSaulnier to help provide a personalized written roadmap for patients as they fight against cancer through diagnosis, treatment and survivorship care."
"We commend the Congressional Cancer Survivors' Caucus co-chairs for advancing this important legislation," said Louis M. Weiner, MD, director of Georgetown Lombardi Comprehensive Cancer Center. "It's thrilling to be part of a new revolution of how we treat cancer using immunotherapies and many other transformative approaches to cancer therapy. We believe in research-inspired cancer care, and cancer care planning and communication is an integral part of ensuring that patients receive the right treatment at the right time. That's what the Cancer Care Planning and Communications Act promotes."
"Cancer survivors need all the support they can get, both during the early stages of diagnosis and treatment, but maybe, more importantly, once it is initially over. All levels of support can be greatly enhanced with a cancer care plan," said Susan Leigh, a four-time cancer survivor and retired oncology nurse. "By promoting more in-depth discussions between providers and the families they care for, these plans act as roadmaps to identify risks, coordinate care, and reduce fears after treatment ends."
Organizations supporting the CCPCA:
American Cancer Society Cancer Action Network (ACS CAN)
American Society for Radiation Oncology (ASTRO)
Association of Community Cancer Centers (ACCC)
CancerCare
Cancer Legal Resource Center
Children's Cause for Cancer Advocacy (CCCA)
Colorectal Cancer Alliance
Georgetown Lombardi Comprehensive Cancer Center
Lacuna Loft
Laura and Isaac Perlmutter Cancer Center at NYU Langone
Leukemia & Lymphoma Society
LUNGevity Foundation
Lymphoma Research Foundation
Memorial Sloan-Kettering Cancer Center
National Coalition for Cancer Survivorship (NCCS)
National Patient Advocate Foundation
Susan G. Komen
Triage Cancer
University of Virginia Cancer Center
ZERO – The End of Prostate Cancer
Read additional information about the CCPCA »
# # #
Related Posts
https://canceradvocacy.org/blog/health-care-roundup-june-21-2019/
https://canceradvocacy.org/nccs-news/17-patient-groups-urge-appeals-court-to-uphold-health-care-law/
https://canceradvocacy.org/wp-content/uploads/2018/07/NCCS-News-Cancer-Policy-Matters.jpg
600
1200
actualize
https://canceradvocacy.org/wp-content/uploads/2020/06/NCCA-Logo.png
actualize
2019-07-23 12:54:47
2020-07-06 10:11:52
NCCS Applauds Introduction by Reps. DeSaulnier and Carter of Bipartisan "Cancer Care Planning and Communications Act"