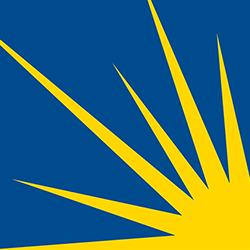 Health Care Roundup: ACA Open Enrollment News; Head and Neck Survivor Mental Health Study; Fear of Recurrence Webinar; More
In order to bring you the latest cancer-related health care policy and news, we at NCCS combined our 
ACA Updates
 and 
What Caught Our Eye (WCOE)
 content into a weekly email and blog post. We aim to make this a concise, one-stop summary of what you need to know as we continue working together to make cancer care better for everyone.
Your feedback is always welcome to make our content more useful to you. Please send comments to feedback@canceradvocacy.org.
Subscribe to our email list and receive these updates in your email box each week »
---
HEALTH CARE HIGHLIGHT
Open Enrollment for ACA Now Underway
Open enrollment for 2019 ACA plans began yesterday and will run through December 15, 2018. Despite numerous attempts to repeal the ACA in 2017 and an ongoing court case in Texas, the ACA continues ahead, business as usual, for the most part. Many Americans will qualify for financial help that lowers their monthly premiums to between $50 and $100. Tara Siegel Bernard reports in the New York Times:
After skyrocketing last year, premium prices in many places have stabilized, as insurers adjust overpriced policies and more competitors enter, or return, to the market. But what you pay will still vary greatly based on your income, location and plan level. Premiums for a benchmark 'silver' plan are expected to dip 1.5 percent on average after rising sharply for two years.
Premium prices could be even lower this year, had it not been for administrative and congressional actions nullifying the individual mandate and promoting short-term and association-based health plans. A Kaiser Family Foundation analysis highlighted:
Among insurers that publicly quantify a rate impact from legislative and regulatory changes – effective repeal of the individual mandate penalty and/or expansion of more loosely regulated plans – the upward effect on 2019 premiums ranges from 0% to 16%.
Regardless of the policy or political implications, the bottom line is that cancer patients and survivors rely on access to quality and affordable health care. Right now, that coverage is accessible for many, if not most, through the Affordable Care Act. It is imperative that people sign up for coverage at healthcare.gov BEFORE December 15.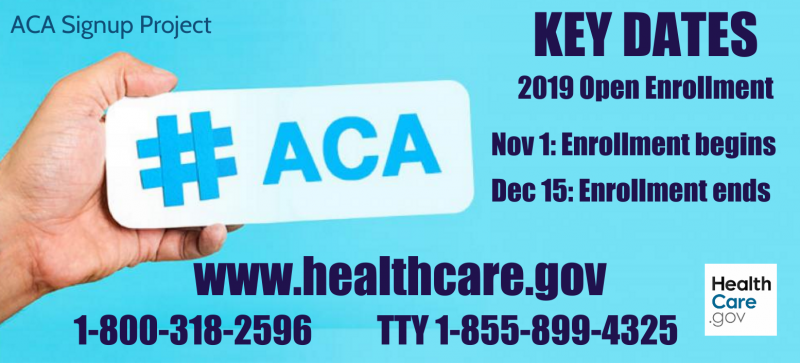 Additional Information:
---
CHART OF THE WEEK
Morning Consult
This chart is quite revealing in the context of the Texas lawsuit to block the ACA and repeated Congressional attempts to repeal the ACA.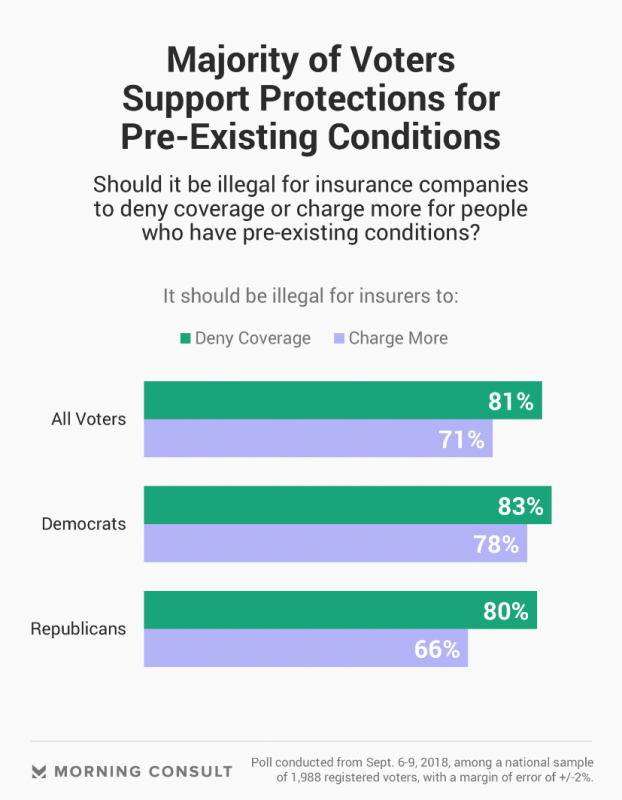 83% of Democrats, 80% of GOP voters say insurers should have to cover people with pre-existing conditions: https://t.co/UeeudrVYpv pic.twitter.com/9bQn6Mp8O4

— Morning Consult (@MorningConsult) September 15, 2018
---
IMPORTANT READS
AJMC.com
A recent study published in Cancer highlights the difficult survivorship issues thousands of patients with head and neck cancer must face. The authors highlight that these severe challenges cause HNC survivors to be "twice as likely to die by suicide that survivors of other cancers." These are sobering statistics that will hopefully lead to more interventions and support services for HNC patients and survivors.
New York Times
Two new studies published in the New England Journal of Medicine are the first to provide insights into minimally invasive surgery versus an open abdominal operation for cervical cancer. Researchers found that minimally invasive surgery "was more likely to result in recurrence of the cancer and death." The article highlights that the results are already changing medical practice, quoting a doctor at M.D. Anderson saying they've stopped doing minimally invasive procedures for cervical cancer.
WebMD
In the American Society of Clinical Oncology's National Cancer Opinion Survey, 38 percent of respondents said they believe alternative therapies alone can cure cancer, despite evidence of higher mortality rates for people who use alternative therapies in lieu of standard cancer treatments.
---
Related Posts
https://canceradvocacy.org/blog/health-care-roundup-oct-26-2018/
https://canceradvocacy.org/blog/health-care-roundup-oct-19-2018/
https://canceradvocacy.org/wp-content/uploads/2017/01/NCCS-Starburst-250px.png
250
250
actualize
https://canceradvocacy.org/wp-content/uploads/2020/06/NCCA-Logo.png
actualize
2018-11-02 16:07:45
2018-11-02 16:07:45
Health Care Roundup: ACA Open Enrollment News; Head and Neck Survivor Mental Health Study; Fear of Recurrence Webinar; More