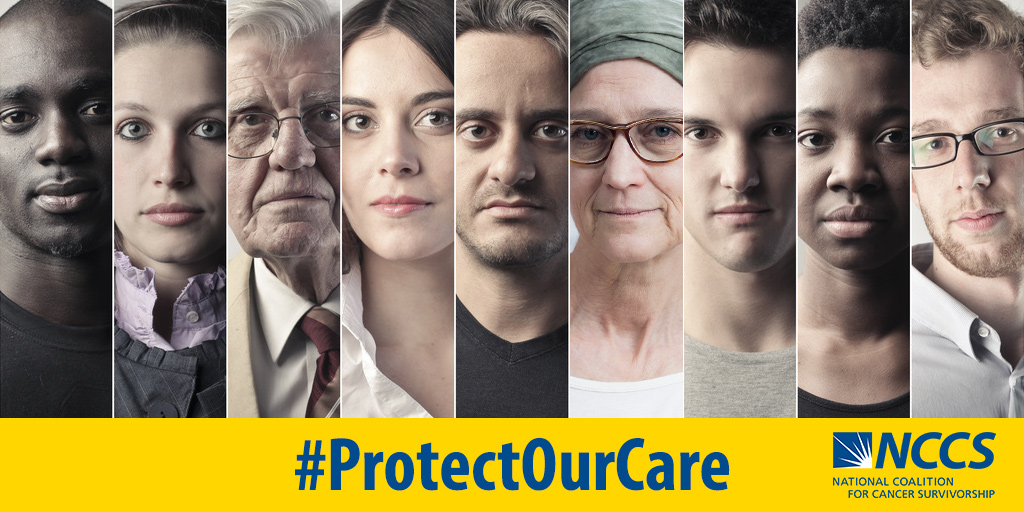 ACA Update | May 5, 2017: AHCA Passes in House, Now Faces Major Obstacles in Senate

Prior to the Affordable Care Act (ACA), cancer survivors were at the mercy of the health care system, often forced to pay exorbitant premiums or simply denied coverage altogether. Today, America's 16 million cancer survivors benefit from the ACA's patient protections that are critical to providing them with quality, affordable, and accessible health care coverage. NCCS is actively engaged in advocating to ensure this unprecedented access for cancer patients and providers continues.
Yesterday, the House of Representatives passed the American Health Care Act (AHCA), including an amendment authored by Congressman Tom MacArthur (R-NJ) and brokered with members of the Freedom Caucus, which would allow states to opt out of providing essential health benefits and community rating. Essential health benefits (EHBs) are ten services the ACA requires insurers to include in all plans, such as hospitalization, prescription drugs, in-patient and out-patient care, and treatments like chemotherapy. Community rating in the ACA prohibits insurers from charging more for premiums based on health status.
A number of members, concerned that the MacArthur Amendment would not sufficiently protect people with pre-existing conditions, indicated they could not support the bill. Congressman Fred Upton (R-MI) offered an additional amendment with $8 billion over five years to help cover the costs for sicker populations, in most cases including cancer patients and survivors, through high-risk pools (see below video) or subsidies, although it was not clear exactly how this money would be used. Upton's amendment swayed enough Members of Congress, and without a Congressional Budget Office (CBO) score, without testimonies or hearings on the impact of the bill, and with only hours to read and analyze the text of the legislation, Members of the House passed the AHCA by two votes.
High-Risk Pools Explained
House Republicans celebrated yesterday with President Trump in the White House Rose Garden after the AHCA made it through the House. But Senate Republicans are saying, "Not so fast." Now the bill will go to the Senate, where it will face several obstacles—including a looming CBO score (preliminary estimates look grim), Senators from states that expanded Medicaid who do not want to eliminate the program, and significant parliamentary challenges. A handful of Republican Senators have already said they are not satisfied with the House version of the bill and it will be revised. The margin in the Senate is closer than in the House; Republicans can only lose two Senators' votes.
The American Health Care Act was a terrible bill when it failed to get a vote back in March, with recent amendments only making it far worse for patients. With health care for more than 24 million Americans in jeopardy, it is critical that we let the Senate know they cannot let this bill become law as it would be devastating for cancer patients and survivors. NCCS will continue to advocate for cancer survivors throughout this process and keep patients and survivors up-to-date on this legislation.
---
Related Post
https://canceradvocacy.org/blog/poor-amendments-cannot-fix-bad-bill/
Learn more about the ACA, including tips for contacting your lawmakers »
---
https://canceradvocacy.org/wp-content/uploads/2017/01/ProtectOurCare-1024px.jpg
512
1024
actualize
https://canceradvocacy.org/wp-content/uploads/2020/06/NCCA-Logo.png
actualize
2017-05-05 17:12:15
2017-05-05 17:12:15
ACA Update | May 5, 2017: AHCA Passes in House, Now Faces Major Obstacles in Senate