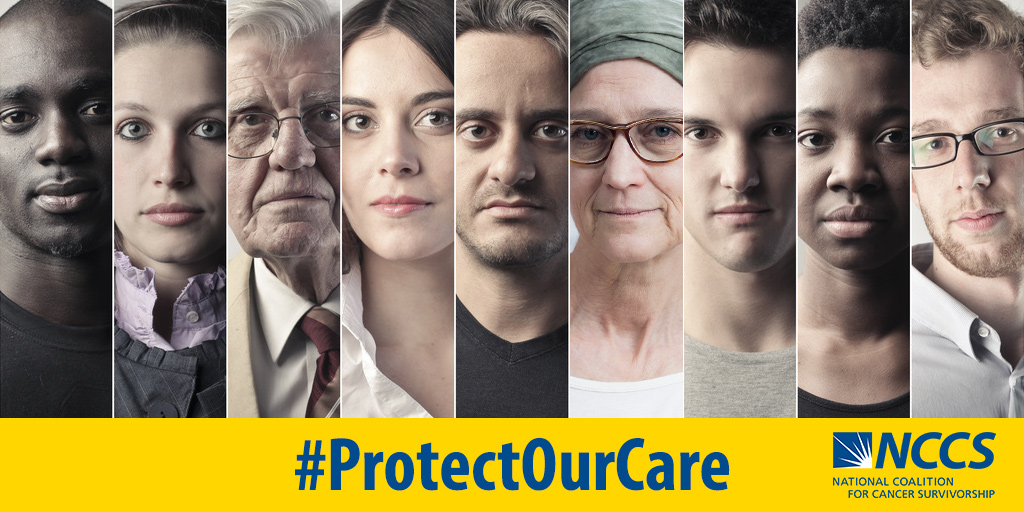 ACA Update | July 14, 2017: Updated BCRA Released; 30+ Cancer-Related Groups Join in Opposition

Prior to the Affordable Care Act (ACA), cancer survivors were at the mercy of the health care system, often forced to pay exorbitant premiums or simply denied coverage altogether. Today, America's 16 million cancer survivors benefit from the ACA's patient protections that are critical to providing them with quality, affordable, and accessible health care coverage. NCCS is actively engaged in advocating to ensure this unprecedented access for cancer patients and providers continues.
Senate Releases New Draft of BCRA; Cruz Amendment Included
Yesterday, Senate leadership released an updated draft version of their health care repeal bill, the Better Care Reconciliation Act (BCRA). As Andy Slavitt, former acting director of the Centers for Medicare and Medicaid Services, states, "Trumpcare went from being very bad to unworkably bad." The bill allows insurers to deny coverage based on pre-existing conditions, and to charge higher rates to sick people.
A version of the Cruz Amendment, which we reported on last week, was included in the bill. The amendment allows insurers to also sell plans that do not comply with ACA regulations, including the law's essential health benefits and its pre-existing conditions protections. This amendment would drastically increase premiums for sick people, provide plans that are not comprehensive, and destabilize the market. As Ezra Klein reports, this bill is terrible for anyone who is sick, has been sick, or will be sick.
Kaiser Family Foundation developed a useful interactive chart that compares the ACA, the House passed version (the AHCA), and the proposed Senate version (the BCRA).
The ACA has provided cancer survivors with unprecedented access to quality and affordable health care and we cannot afford to go back to the days when insurers could deny coverage based on health status or charge outrageous premiums for skimpy plans.
Since the release of the revised bill, two Senators have announced they will vote "No," and with only one more needed to halt the bill.
It is critical that Senators on both sides of the aisle hear from their constituents and cancer survivors on how this bill would negatively affect access to affordable and comprehensive health care. Please call your Senators today at (844) 257-6227.
---
NCCS Joins Thirty-three Cancer-Related Organizations to Oppose the BCRA
NCCS joined 33 cancer-related patient advocacy and professional organizations in opposition to the revised BCRA. In the statement, NCCS CEO, Shelley Fuld Nasso wrote, "With an estimated 22 million losing coverage, severe cuts to Medicaid, and elimination of pre-existing condition protections, this bill is devastating for the American people, especially for anyone with a cancer diagnosis. It is time to end this threat that is causing fear and anxiety throughout the cancer community, and work towards bipartisan solutions to strengthen current law."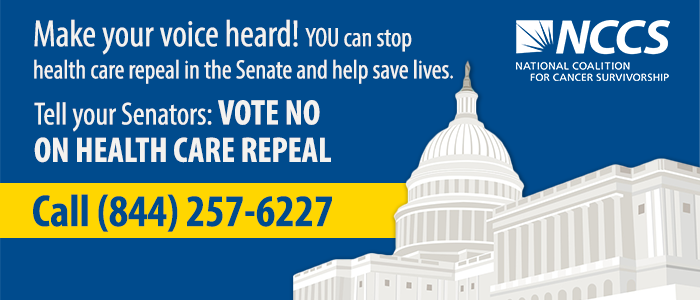 ---
Related Posts
https://canceradvocacy.org/policy-comments/nccs-comments-cms-outlines-steps-strengthen-aca/
https://canceradvocacy.org/blog/aca-update-july-7-2017/
---
https://canceradvocacy.org/wp-content/uploads/2017/01/ProtectOurCare-1024px.jpg
512
1024
actualize
https://canceradvocacy.org/wp-content/uploads/2020/06/NCCA-Logo.png
actualize
2017-07-14 14:25:33
2017-07-14 14:25:33
ACA Update | July 14, 2017: Updated BCRA Released; 30+ Cancer-Related Groups Join in Opposition