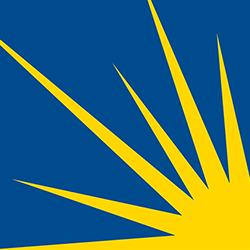 Health Care Roundup: Insights on Telehealth, Decline in Medical Visits, Standards of Care, and More
We aim to make the Health Care Roundup a concise, one-stop summary of what you need to know as we continue working together to make cancer care better for everyone. Your feedback is always welcome to make our content more useful to you. Please send comments to feedback@canceradvocacy.org.
Subscribe to our email list and receive these updates in your email box »
If you have any cancer-related questions or concerns about COVID-19, please reach us at www.canceradvocacy.org/contact.
---
HEALTH CARE HIGHLIGHTS
NCCS Updates
Register for First-Ever Virtual CPAT Symposium
Cancer survivors' stories can shape how decision makers provide quality cancer care to millions of cancer survivors. That is why NCCS invites cancer advocates from around the country to register for the annual Cancer Policy and Advocacy Team (CPAT) Symposium virtually, on June 15-16 and June 22-23 from noon to 3 p.m. ET, including a virtual Hill Week June 22-26.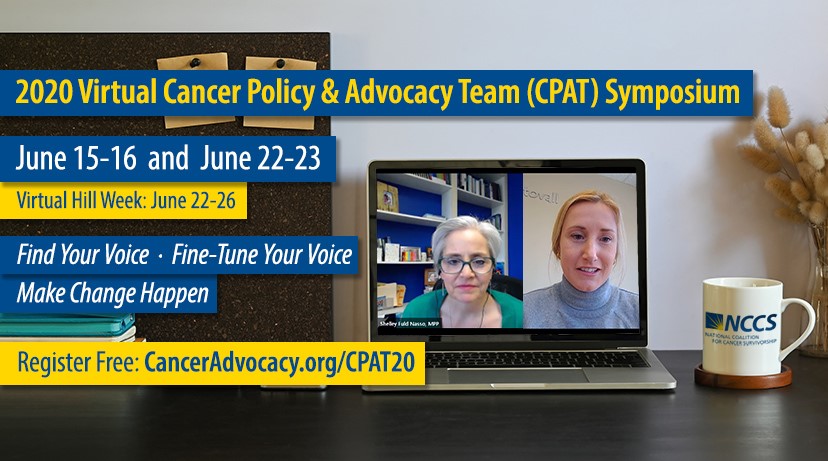 We will host three different tracks so attendees choose their own Symposium experience—whether they are a brand-new advocate or a seasoned Symposium attendee. Attendees will also:
Hear from health care and policy experts about managing stress and anxiety, how to "return" to work, and the future of cancer care;
Participate in a roundtable on what survivorship means for people with metastatic cancer and help shape the conversation around metastatic survivorship;
Hear from Washington insiders about health policy during the COVID-19 pandemic;
Prepare for and attend meetings with Congressional staff through the virtual Hill Week June 22-26.
Register for this event today »
We encourage you to invite others to register. The Symposium is exclusive to CPAT members, which is free and easy to join!
---
NCCS Project Aims to Gain Cancer Survivors' Insights on Telehealth
This month, NCCS launched a project to identify and share cancer patients' and survivors' perspectives on telehealth—the use of telephone or video conferencing for medical appointments—in cancer care. The COVID-19 pandemic has led to dramatic and rapid increases in the adoption of telehealth, and NCCS wants to ensure patient voices are heard.
---
2020 Elevate Ambassadors Selected to Improve Survivorship Care in Local Communities
NCCS is proud to announce the selection of 14 patient advocate leaders to serve as Ambassadors for the 2020 Elevating Survivorship program. Elevate Ambassadors will receive support, mentorship, networking opportunities, and virtual training from NCCS to develop and execute a plan of action to improve survivorship care in their community—whether for a hospital, oncology practice, community-based organization, or virtual community.
Policy Updates
Senate Nixes Fourth COVID-19 Stimulus Package
Last week the House of Representatives passed the Health and Economic Recovery Omnibus Emergency Solutions Act, or the HEROES Act, the fourth COVID-19 stimulus package. However, Senate leadership announced it was dead on arrival and that their version "would look nothing like the House's Democrat bill." NCCS has been working alongside other patient groups to meet with Congressional offices to share patient priorities during the pandemic.
We were pleased to see some of these priorities were included in the House bill, including a special enrollment period for the Affordable Care Act (ACA), funding for state Medicaid programs, expansion of paid leave provisions, and assistance for people who lost employer-based coverage. We will monitor this bill as it moves through Congress and update you on provisions that will impact patients and their access to health services.
---
Otis Brawley, MD on Paid Family Medical Leave
Yesterday, friend of NCCS and Bloomberg distinguished professor, Dr. Otis Brawley, provided his expertise in a virtual Congressional briefing on paid family medical leave. In last month's Health Care Roundup we included a legislative alert so that advocates could take action on this important issue and let Congress know cancer patients need to be included in paid leave.
---
CHART OF THE WEEK
Vox.com
This survey finds paid sick leave as a top issue for voters. "There are restaurant workers, there are people who work for fortune 500's who don't have a paid sick day, there's home health workers," says Paid Leave for All Action Director Dawn Huckelbridge. "If we're not giving people these protections, we're going to be forcing them to choose between their life and their livelihoods."

---
WHAT WE'RE LISTENING TO
---
WHAT WE'RE READING
---
More COVID-19 Information
Error: View 454df2721p may not exist
https://canceradvocacy.org/wp-content/uploads/2017/01/NCCS-Starburst-250px.png
250
250
actualize
https://canceradvocacy.org/wp-content/uploads/2020/06/NCCA-Logo.png
actualize
2020-05-22 16:58:17
2021-09-29 03:56:34
Health Care Roundup: Insights on Telehealth, Decline in Medical Visits, Standards of Care, and More