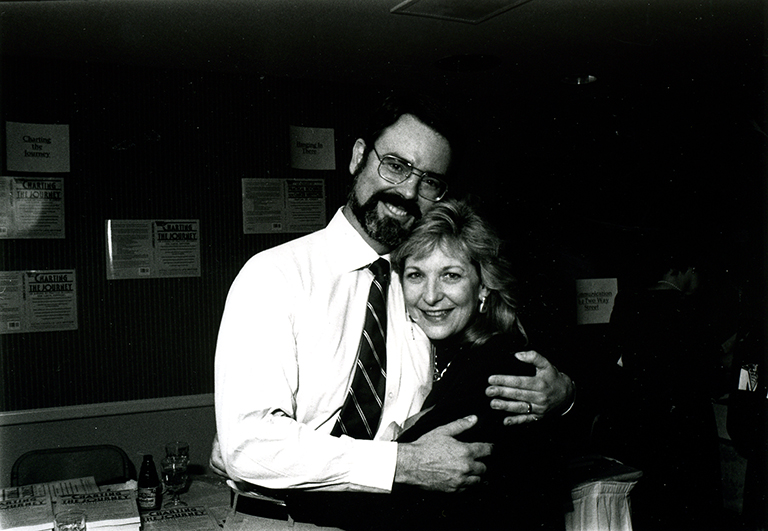 Ellen Stovall: One Person Can Make a Difference
From 1992 to 2008, Ellen Stovall was the president and CEO of NCCS, the oldest survivor-led organization advocating for quality cancer care for all Americans. This video, filmed and produced in 2008, features interviews from NCCS co-founders Dr. Patti Ganz and Dr. Fitzhugh Mullan, Dr. Julia Rowland, Dr. Zeke Emanuel, the late General H. Norman Schwarzkopf, and others.
Ellen L. Stovall was a 45-year survivor of three bouts with cancer and advocated for more than 30 years to improve cancer care in America. After leading NCCS as president and CEO for 16 years, Ellen served as the Senior Health Policy Advisor. She was a founding member of the Institute of Medicine's National Cancer Policy Board and its successor, the National Cancer Policy Forum. Prior to the establishment of the Forum, Ellen was vice-chair of the National Cancer Policy Board and co-chaired its Committee on Cancer Survivorship. In that capacity, she co-edited the Institute of Medicine's report "From Cancer Patient to Cancer Survivor: Lost in Transition," which addressed the issues adult cancer survivors face.
Ellen served as vice-chair of The Robert Wood Johnson Foundation's National Advisory Committee to Promote Excellence in Care at the End of Life, and as the vice-chair of the Foundation's National Advisory Committee for Pursuing Perfection: Raising the Bar for Health Care Performance. Ellen served on the Boards of Directors of the National Committee for Quality Assurance (NCQA) and The Leapfrog Group, and she served on a committee of the National Quality Forum (NQF) to establish consensus around cancer care quality measures. She also served on several advisory panels, working groups and committees of the National Cancer Institute (NCI), American Association for Cancer Research (AACR) and the American Society of Clinical Oncology. Ms. Stovall also served a six-year term on the National Cancer Institute's National Cancer Advisory Board (NCAB), an appointment she received in 1992 from President Bill Clinton.
Ellen passed away on January 5 suddenly from cardiac complications due to her cancer treatments. To many of us—likely thousands—she was a trustworthy friend, a mentor, a collaborator, a visionary. Ellen was all of this and more, and always with a generous heart, a keen mind, a quick wit, and unswerving ethics. How fortunate we were to know her; how grateful we are for her thinking and her work for all cancer survivors.
---
UPDATE:
For information on the arrangements for Ellen's services, see this post: "Remembering Ellen Stovall: Arrangements Announcement."
If you wish make a gift in honor of Ellen's legacy, please click here to donate to the Ellen Stovall Memorial Fund.
---
Remembering Ellen
Below is a guestbook where you can share your thoughts and remembrances of our dear friend and tireless advocate Ellen Stovall.
[gwolle_gb book_id="1″]
---
https://canceradvocacy.org/wp-content/uploads/2016/01/4-Ellen_Fitz768x531.jpg
531
768
actualize
https://canceradvocacy.org/wp-content/uploads/2020/06/NCCA-Logo.png
actualize
2016-01-06 13:14:50
2016-01-06 13:14:50
Ellen Stovall: One Person Can Make a Difference