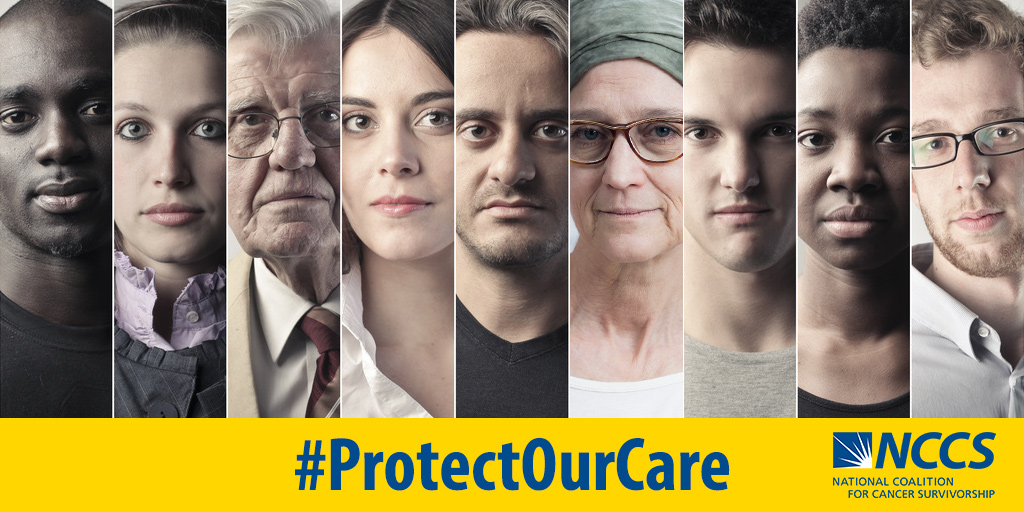 ACA Update | June 29, 2017: Senate Health Care Vote Delayed

Prior to the Affordable Care Act (ACA), cancer survivors were at the mercy of the health care system, often forced to pay exorbitant premiums or simply denied coverage altogether. Today, America's 16 million cancer survivors benefit from the ACA's patient protections that are critical to providing them with quality, affordable, and accessible health care coverage. NCCS is actively engaged in advocating to ensure this unprecedented access for cancer patients and providers continues.
As you likely heard on Tuesday, Senate Majority Leader Mitch McConnell (R-KY) announced he would not proceed with a vote on the Better Care Reconciliation Act (BCRA) this week, as was previously planned. The BCRA, the Senate's bill to replace the Affordable Care Act, was released last week in draft form and on Monday, the Congressional Budget Office (CBO) released their report on the bill.
The CBO analysis confirmed what we already knew. Just like the House version, the BCRA would be devastating; causing 22 million people to lose coverage, including 15 million who depend on Medicaid, and increasing costs for less coverage for millions of sick, elderly, and low-income Americans.
The BCRA's damage doesn't stop there.
By allowing states to waive essential health benefits, the bill essentially guts protections for pre-existing conditions, potentially affecting those on employer-sponsored health plans. While insurers would not be able to deny coverage to cancer patients, insurers would be able to deny coverage for certain benefits and treatments, such as chemotherapy or prescription drugs.
In addition, the BCRA not only phases out the Medicaid expansion, but seeks drastic and permanent cuts to Medicaid, which has helped millions of cancer patients get access to health care that their lives depend on.
Taking Action
On Tuesday, CPAT advocates with NCCS went to the Hill for over 160 meetings with Members and their staff, sharing their stories and asking their Members of Congress to vote NO on this destructive bill.
Although the BCRA will not be brought to the floor this week, the battle is far from over. As we speak, Senators are negotiating changes and plan to resubmit the bill to the CBO and vote after the 4th of July recess. It is critical that we continue to let our Senators know that no amount of tinkering will fix such a disastrous and flawed bill.
The only option is for a new, bipartisan, and open process to take its place—one that will build on the success of the Affordable Care Act and actually improve our nation's health care system.
Please call your Senators today at (844) 257-6227 so this bill is stopped from harming millions of cancer patients and survivors who should only be focused on their health; NOT on whether they'll be able to keep or afford their health care.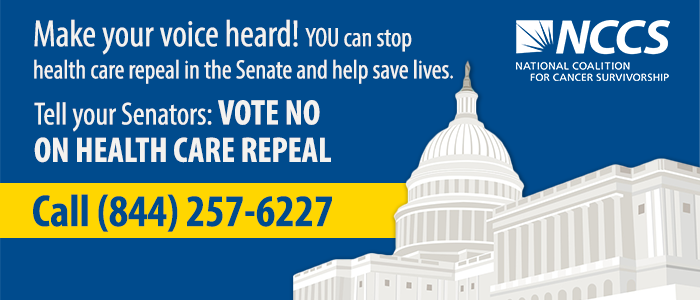 ---
Related Posts
https://canceradvocacy.org/blog/nccs-cpat-member-jen-campisanos-powerful-op-ed-highlights-senates-secretive-health-care-repeal-process/
https://canceradvocacy.org/nccs-news/nccs-statement-cbo-report-senates-better-care-reconciliation-act/
---
https://canceradvocacy.org/wp-content/uploads/2017/01/ProtectOurCare-1024px.jpg
512
1024
actualize
https://canceradvocacy.org/wp-content/uploads/2020/06/NCCA-Logo.png
actualize
2017-06-29 16:07:01
2017-06-29 16:07:01
ACA Update | June 29, 2017: Senate Health Care Vote Delayed