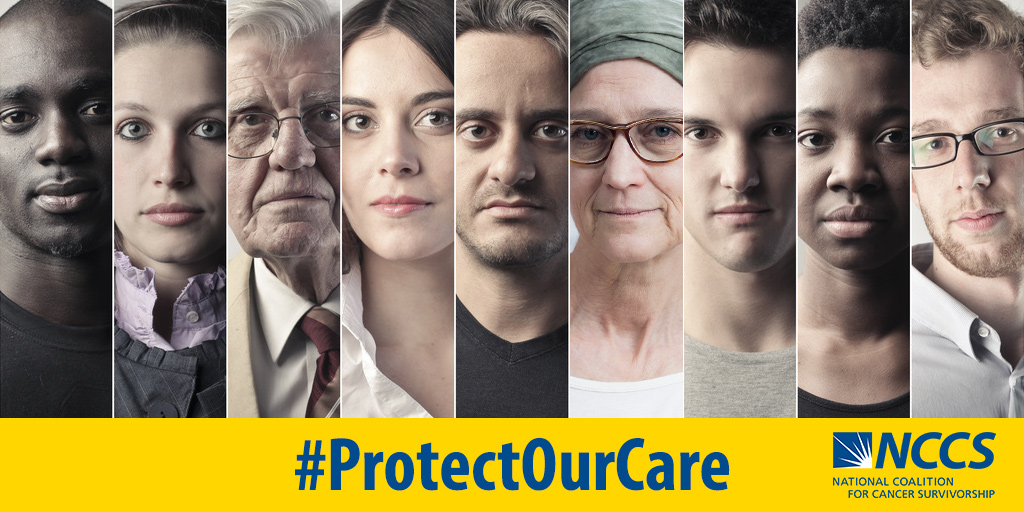 ACA Update | August 11, 2017: A Bipartisan Plan for the ACA; and Insurers Say Uncertainty Is Driving Premium Rate Hikes

Prior to the Affordable Care Act (ACA), cancer survivors were at the mercy of the health care system, often forced to pay exorbitant premiums or simply denied coverage altogether. Today, America's 16 million cancer survivors benefit from the ACA's patient protections that are critical to providing them with quality, affordable, and accessible health care coverage. NCCS is actively engaged in advocating to ensure this unprecedented access for cancer patients and providers continues.
It has been a relatively quiet week on Capitol Hill with Members of Congress on recess and back in their home states and districts.
On Wednesday, a bipartisan health policy coalition announced a plan that they will be presenting to Members of Congress to strengthen and stabilize the ACA, pay all the federal subsidies provided under the ACA, and to encourage enrollment in coverage. In addition to making cost-sharing reduction (CSR) payments, the coalition also says that states should have more flexibility, specifically allowing ways to "combine private and public coverage to provide greater freedom and work opportunities for disabled Americans."
The ACA currently allows some state flexibility through a waiver process, and while more flexibility is being encouraged by the bipartisan coalition, NCCS is urging Members of Congress to ensure that critical patient protections are secure and that any state flexibility would not lead to worse coverage than is currently available.
It is important to note the role uncertainty is playing with rising insurance premiums. A recent New York Times article references a recent analysis done by the Kaiser Family Foundation saying, "…insurers are being quite explicit about citing the Trump administration's hostile policy messages as a substantial reason for the higher prices."
Health insurers price uncertainty into their proposed Obamacare premiums for next year. https://t.co/9ZV0SVhGDW

— The Upshot (@UpshotNYT) August 10, 2017
Finally, a Kaiser Health Tracking Poll released this week provides further evidence of where the American people are on health care. The poll shows that a majority of the public (60 percent) "say it is a 'good thing' that the Senate did not pass" the ACA repeal and replace bill. A majority (57 percent) also believes that there should now be a bipartisan approach in Congress to make improvements to the ACA.
Take Action
Recess is the perfect time to make your voice heard by attending district meetings and local town hall events. Tell your Members of Congress to do the right thing by honoring the CSR payments and working in a bipartisan fashion to stabilize the ACA marketplace as soon as possible. NCCS is here to help you in these advocacy efforts.
If you are interested in scheduling a meeting in your district or state Congressional office during the next month, please email our Public Policy Manager, Lindsay Houff, at lhouff@canceradvocacy.org. We have an informative tip sheet online to help you prepare for calls, meetings and town hall events. Another important way you can make your voice heard is through op-eds in local newspapers. NCCS would love to help you draft an op-ed and provide instructions on getting the article published.
While the future of the ACA is still uncertain, one thing is for sure: Your advocacy efforts played a critical role in derailing terrible legislation that threatened millions of cancer survivors. We won't stop now – join us during this month's recess to put pressure on Congress to make health care better for ALL Americans.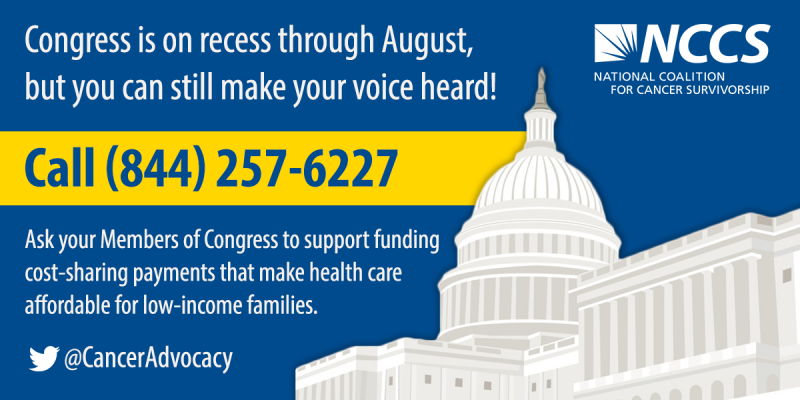 For more information on how you can get involved, check out our #ProtectOurCare page »
---
Related Posts
https://canceradvocacy.org/blog/wcoe-strengthening-aca-harm-of-medical-debt-bone-symptoms-after-treatment/
https://canceradvocacy.org/blog/aca-update-august-4-2017/
---
https://canceradvocacy.org/wp-content/uploads/2017/01/ProtectOurCare-1024px.jpg
512
1024
actualize
https://canceradvocacy.org/wp-content/uploads/2020/06/NCCA-Logo.png
actualize
2017-08-11 16:25:37
2017-08-11 16:25:37
ACA Update | August 11, 2017: A Bipartisan Plan for the ACA; and Insurers Say Uncertainty Is Driving Premium Rate Hikes