Cancer Policy & Advocacy Team (CPAT)
The NCCS Cancer Policy & Advocacy Team (CPAT) is a program for survivors and caregivers to learn about pressing policy issues that affect quality cancer care in order to be engaged as advocates in public policy around the needs of cancer survivors.
Led by the CPAT Steering Committee, CPAT provides cancer survivors and caregivers with tools and training that build upon their personal experiences to become effective advocates to improve cancer care.
The CPAT webinars, newsletters, online forum, and conferences for offer advocates different ways to learn and to discuss current issues, programs, and policies that affect the cancer community and to take action as appropriate.
2022 CPAT Symposium Events
This year, NCCS will host two CPAT Symposium events and a Virtual Hill Week. For those who are ready to travel to the Washington, DC Area, please apply for the Advocate Scholarship and complete the In-Person Symposium Registration after receiving an award letter.
NCCS recognizes that due to our limited capacity and the ongoing pandemic, the in-person symposium will not be able to accommodate everyone. This year we are offering a one-day Virtual CPAT Symposium on July 11, 2022 to kick off Virtual Hill Week.
In-Person
See photos and summaries of the In-Person Symposium sessions and hear testimonials from attendees.
Virtual CPAT Symposium
Virtual Symposium and Virtual Hill Week
Develop advocacy skills, learn about cancer policy issues, and meet your lawmakers from the comfort of your own home.
2022 Summary
Read a PDF summary of both of our 2022 CPAT Symposia events.
Become a CPAT Member for Free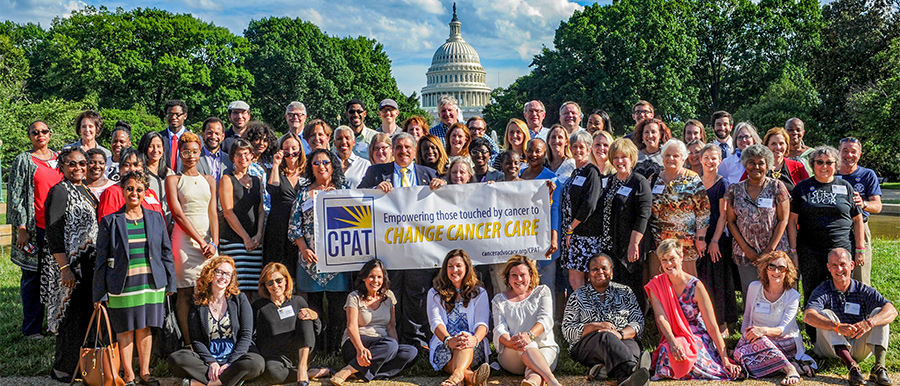 No one knows where or how to improve cancer care better than you—someone who has experienced it as a patient or caregiver. That's why more than 700 advocates have joined the NCCS Cancer Policy and Advocacy Team (CPAT), a program designed to provide those touched by cancer with the tools and training to apply their experiences to become empowered advocates.
For more information about CPAT, contact us at cpat@canceradvocacy.org.
2022 CPAT Program Supporters