Celebrating 35 Years of Making a Difference
Life after cancer is worth celebrating and a better quality of life for all cancer survivors is worth the fight.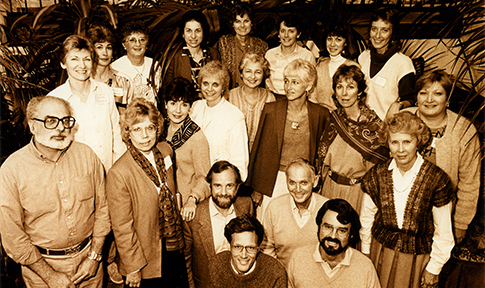 With the support of advocates and donors like you, NCCS is celebrating the 35th Anniversary of its founding on October 26. Prior to this historic weekend, very little was done to investigate and address the challenges of survivorship. One of our founders, a doctor and a cancer survivor himself, Dr. Fitzhugh Mullan wrote in 1985 about survivorship, "It is as if we have invented sophisticated techniques to save people from drowning, but once they have been pulled from the water, we leave them on the dock to cough and splutter on their own in the belief that we have done all that we can."
Our Founders' vision was to empower and educate people on the full spectrum of issues related to living with, through, and beyond a cancer diagnosis. Cancer survivorship was forever transformed – for the better – because of their vision, their tenacity, and supporters like you.
Your gift creates a better tomorrow for millions of cancer survivors and caregivers nationwide.
THANK YOU!
Please consider a monthly gift. Every month you'll know that you're helping fund advocacy and survivor support.
Double the Impact of Your Contribution: Your gift today can go even further in helping cancer survivors. Many employers sponsor matching gift programs and will match most charitable contributions made by their employees, employees' spouses, or retired employees made within the last year. To find out if your company has a matching gift policy, please click here or contact your organization's administration.